Open Diagnostics Ecosystem strengthening ties with the United Kingdom
24-04-2023

Last week, a delegation of eight British companies from the MedTech & Diagnostics sectors visited Campus Groningen, where they were introduced to the LIFE Cooperative, to innovate, engage with likeminded business and research partners in the Open Diagnostics Ecosystem to share best practice and explore possible cooperation opportunities.
In late-2022, the UK embassy in the Hague established contact with ODE, and after a 6-month period of close collaboration with the UK embassy in The Hague and Innovate UK, we welcomed the UK delegates on April 19th, in the Innovation Center Chemistry and Engineering.
The day itself was comprised of interactive and dynamic meetings. After a brief introduction to our LIFE Sciences Ecosystem, by director Peter Ketelaar, Elke Veenman elaborated how the pharmaceutical and diagnostic value chain in the north is being organized. Following their presentations, IQ Corporation Joost Schuitemaker led an interesting and interactive discussion about changes in and subsequent challenges of the regulatory environment of the EU. It became clear that British and Dutch companies are expected to continue to face challenges getting new and current diagnostic technologies to the EU market to improve patient care. Elmar de Jong elaborated about the opportunity for innovative foreign businesses to acquire a permit for a one-year stay in the Netherlands with the Startup Visa program. 
Both the British and Dutch MedTech and Diagnostics industries are essential players in addressing the pressing health challenges of our times. On the day of the visit, leading innovators from both nations have come together, creating the potential to generate significant value for companies operating in the MedTech & Diagnostics and contribute to the global advancement in the broad areas that the two sectors cover. The Open Diagnostics Ecosystem is actively contributing to the development of new innovative diagnostic technologies via co-creation and collaboration in the Northern part of the Netherlands.
We thank our partners Paramedir, Asc Academics, IQ Corporation, Demcon, Ardena, Biomarker Bay, Reperio Medtech, Protyon, Symeres, Nostics, CC Diagnostics and SG Papertronics sharing their experiences and active contributions during this day.
Aston Vision Sciences Ltd, CardioCrown, Enhanced Fertility Programme, HAUGHTON DESIGN LIMITED, Laennec AI Limited, Mindtech Global Limited, Proteotype Diagnostics, and Rapidx Bio thank you for coming over. It was great to have you in Groningen.
The visit was part of the Global Business Innovation Programme run by Innovate UK and Innovate UK EDGE and supported by the UK Science and Innovation Network and the British embassy in The Hague.
The Open Diagnostics Ecosystem is supported by the SNN, EFRO and the municipality of Groningen.
Extra ogen en oren op afstand
Neolook ontwikkelt met ODE slim digitaal sensorsysteem voor vroeggeborenen en kwetsbare kinderen op de intensive care
30-3-2023

De zorg voor vroeggeboren en kwetsbare kinderen in ziekenhuizen is zeer intensief. Een extra paar ogen en oren op afstand helpt ouders, verpleegkundigen en artsen om optimale zorg te kunnen geven. Het bedrijf Neolook ontwikkelt hiervoor digitale diensten, een sterk camerasysteem met extra sensoren voor beweging, geluid en licht. Deze 'Neolook One' maakt live consultatie op afstand mogelijk en geeft livestreams na alarmsignalen door op monitors en zorgtelefoons. Zo houden artsen en verpleegkundigen zicht op de kwetsbare patiënten waar ze ook zijn. Ook stelt deze technologie ouders in staat verbonden te zijn met hun kindje, als zij niet naast de couveuse of het bed zitten. Voor de doorontwikkeling van dit systeem heeft Neolook succesvol een aanvraag gedaan bij het Open Diagnostics Ecosytem (ODE). In dit leerproject, dat loopt van 1 maart tot 30 juni 2023, werkt Neolook samen met het UMCG en de noordelijke bedrijven Pezy en de Telecom Service Groep. Elke Veenman, projectleider Life Science en Health bij ODE, is blij met de start van dit nieuwe leerproject: "De focus van dit project sluit uitstekend aan bij het doel van ODE, namelijk om Noord-Nederland wereldwijde expert te maken in het ontwikkelen van innovatieve diagnostica. De slimme digitale videocamera's van Neolook zullen zorgverleners helpen ook in de toekomst medische diagnoses te stellen en optimale zorg te blijven leveren, ook als er minder handen aan het bed beschikbaar zijn.
Technologie als ondersteuning
De video augmented services die het bedrijf Neolook ontwikkelt, wordt gebruikt op de intensive care voor neonatologie (prematuren) en de intensive care voor pediatrie (kinderen in de leeftijd van drie maanden tot 18 jaar). "Het gaat erom dat dit werkt voor de mensen rondom de kwetsbare patiëntjes: de ouders, verpleegkundigen en artsen," zo benadrukt Marco D'Agata, directeur van Neolook. "Enerzijds is het arbeidsondersteunende technologie om de juiste zorg te leveren. Maar het moet vooral een tool zijn in de handen van de zorgverlener om in te zetten zoals zij dat willen, dat is de kunst. Er waren wel camerasystemen op de markt, maar die bleken helemaal niet opgewassen tegen de eisen van zorgprofessionals. Hoog tijd dus om een fit-for-purpose oplossing te maken, waar de medici jaren mee vooruit kunnen."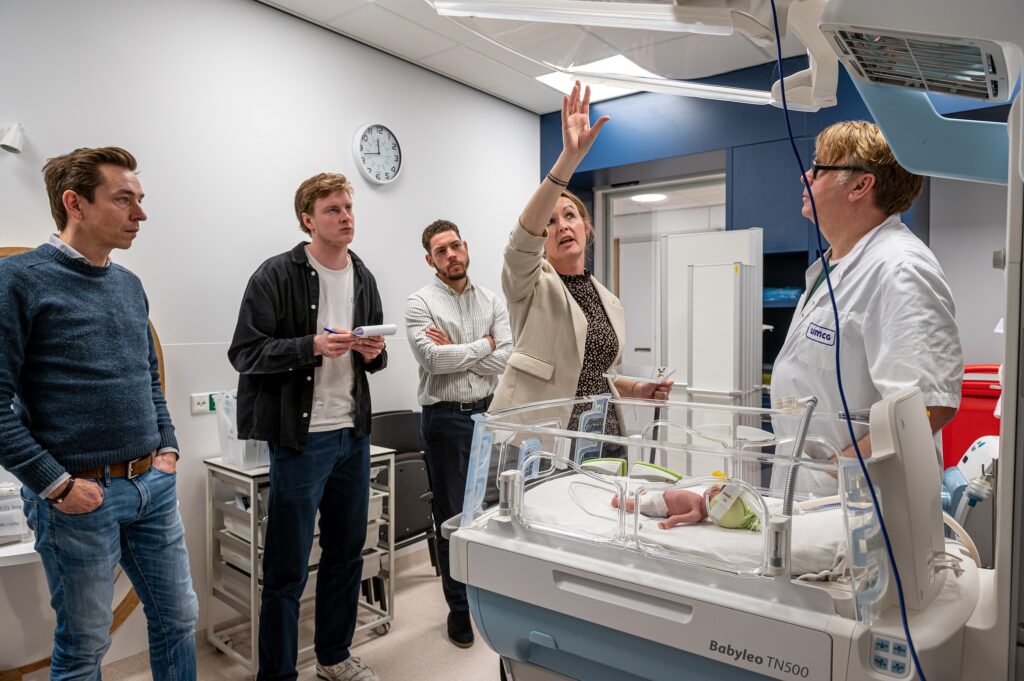 Werkbezoek van Neolook aan het UMCG op 29 maart 2023. V.l.n.r.: Sandor Schrijner (Business Development Manager, Neolook), Daan Noordman (Industrial Designer, Pezy Group), Miguel Boekhold (Solution Architect, Neolook), Annet Feenstra (Hoofd Verpleegkundige Neonatologie, UMCG) en Henk ter Horst (Kinderarts-intensivist Neonatologie, UMCG). Fotograaf: Geert Job Sevink
Samenwerking
De eerste samenwerking met het UMCG dateert al uit 2019. Marco D'Agata: "We hebben in het UMCG een zeer goede samenwerkingspartner. Zij zijn immers de ideale gebruiker, klant en deskundige op het toepassingsgebied." In dit leerproject is Neolook de partij die de innovatieve oplossing bedenkt, ontwerpt en vermarkt voor deze specifieke niche. Maar Neolook heeft geen hoogwaardige kunde op het gebied van hardware en design. Via ODE is Neolook in contact gekomen met twee noordelijke bedrijven die hen op dit vlak aanvullen. Het bedrijf Pezy, ingenieursbureau en productontwikkelaar in Groningen, ontwikkelt het conceptdesign van de Neolook One. De Telecom Service Groep uit Leek is technisch specialist op het gebied van de sensoren, ook qua installatie en onderhoud. D'Agata ziet de voordelen van het ecosysteem van ODE: "Via ODE kwamen we bij de juiste lokale partijen Pezy en de Telecom Services Groep terecht, die relevante kennis en kunde inbrengen. Op deze manier gaat de ontwikkeling van onze dienst sneller en bovendien hebben we de partijen dicht bij elkaar die samen kunnen leveren: van design en productie tot installatie en beheer."
Over Neolook
De start-up Neolook begon in 2020 als spin-out van Philips. Het bedrijf is gespecialiseerd in intensive care voor kwetsbare pasgeborenen en kinderen. Met behulp van zogenaamde video augmented services, het toepassen van slimme digitale video met data, software, algoritmes en kunstmatige intelligentie ontwikkelt Neolook praktische toepassingen voor het zorgteam van professionals, ouders en familie. Het bedrijf ondersteunt ziekenhuizen die vooruitstrevende zorgconcepten hanteren zoals Family Centered Care, Family Integrated Care of Neurodevelopmental care. Neolook werkt op landelijk niveau samen met ziekenhuizen, zorgverzekeraars en de Nederlandse AI-coalitie om de zorg voor de kleinste burgers te verbeteren. Meer info: www.neolooksolutions.com 
Impressive developments for projects in Open Diagnostics Ecosystem
9-2-2023
The Open Diagnostics Ecosystem (ODE) started in the beginning of 2021 to give start-up companies access to funding, knowledge, a strong network, and research & development facilities within the Northern diagnostics ecosystem. Peter Ketelaar, Director Open Diagnostics is proud of the achievements since the start of ODE: ''In the last year four startups were supported with their growth ambitions and in 2023 there are four more to come. Cooperation between the startups and more established companies is something that impressed me the most. An example is the way they represented the Open Diagnostics Ecosystem together during the LIFE Sciences Conference last September." In this article ODE would like to share the developments from some projects in 2022. Open Diagnostics is an initiative from the LIFE Cooperative.
Collaboration is key
Detact Diagnostics, the first start-up that started within the Open Diagnostics Ecosystem, had a year with lots of innovative projects and achievements. One of the highlights was connecting with various dialysis centers for the collection of peritoneal dialysis waste fluid for the development of RenoTact. On top of that was the SynoTact project, the rapid test for diagnosing periprosthetic joint infections used at the UMCG in a pilot study in collaboration with the department of orthopedic surgery. 'Hedi Koning, COO of Detact Diagnostics, is very happy with the achievements over the last year. Key aspect in these achievements is collaboration: 'We finished the first study investigating clinical samples for the SynoTact project together with the UMCG. This collaboration was initiated through to the Open Diagnostics Ecosystem. Besides, collaboration with the other start-ups was very valuable for performing our first internal audit.'' In 2023, Detact Diagnostics is preparing for their Stage 2 audit for ISO13485 certification and expanding their clinical studies for both RenoTact and SynoTact
Successful pilot studies
Reperio, a start-up that is developing non-invasive, portable diagnostic tests using eye movements, had received positive results from pilot studies conducted at the UMCG in preparation for the clinical trials. They created a first fully functioning prototype of SONDA (Standardized Oculomotor Neuro-ophthalmic Disorders Assessment). And they also started generating revenue through R&D consultancy and received the Horizon 2020 ELISE grant, which is awarded to the 16 best start-ups in Europe that use AI for societal improvements.
Major step forward
Richard Rushby, CO-founder and COO at SG Papertronics is enthusiastic about their results in 2022: ''The pilot testing of our flagship product, the Beer-o-meter, among some of the best craft breweries in the industry, has been a major step forward for the company''. The Beer-o-meter is a device that allows craft brewers to measure the quality and consistency of their beer in real-time, giving them the ability to make adjustments and improvements. The feedback from early adopters has been positive, complimenting the Beer-o-meter for its fast and accurate results, as well as its ease of use. With this positive start, SG Papertronics is excited to officially launch the Beer-o-meter in 2023 and to continue expanding its reach into other markets such as agriculture and point-of-care diagnostics.
Newest project
Tagworks, the newest project within Open Diagnostics works on developing a novel radio immunoimaging approach to improve tumor imaging techniques for breast cancer patients. The intended advantages of the technology include improved imaging quality and shorter exposure time to radiation for patients resulting in fewer side effects. Next to Tagworks the Open Diagnostics Ecosystem foresees four more projects in 2023.
Open Diagnostics Events
In 2023 Open Diagnostics is working on helping more start-ups and keeps focusing on sharing knowledge within the diagnostic field in the Northern Netherlands. 
"Furthermore, the knowledge sharing from our ecosystem will also be conducted together with HTRIC during our joint Innovation Boosters. Stay tuned, because there is more excitement to come !'' says Peter Ketelaar.
The final of Groningen OPEN has resulted in two matches for Open Diagnostics!
Last Thursday the final of Groningen OPEN took place in Plus Ultra Groningen on the Zernike Campus. Instead of one winner, Open Diagnostics chose two winners. "We were lucky enough to be able to choose from many applications. This worked out very positively for us because we chose not 1 but 2 winners," said Elke Veenman, Open Diagnostics project leader during the final.

The winners are Protyon and Nostics. Both start-ups are developing in the medical diagnostics field and with a contribution of €1,500 from Groningen OPEN they can now develop an application for the Open Diagnostics Ecosystem. Congratulations on behalf of the Open Diagnostics team. We look forward to working together.

Groningen OPEN has matched three different established companies from the Northern Netherlands to start-ups. The matches help established companies to innovate and start-ups to find customers in the field. For the NNZ | the packaging network match, start-up [BEBR] has been chosen as the winner. Established company KroeseWevers has chosen LEF. 
Open Diagnostics joins newest edition Groningen Open
The goal of Groningen OPEN is to link established companies to startups. With this they help established companies from the Northern Netherlands to innovate and prepare them for the future. On the other hand, they help startups find customers. By collecting targeted challenges from established companies, they can find the ideal match for the collaborations of the future.

Through Groningen OPEN Open Diagnostics is searching for startups with innovative ideas in medical diagnostics. The whole challenge is explained by Elke Veenman in the video underneath. 
Pitches by possible new learning projects and ODE stakeholder meeting
The advisory board met to hear various pitches of possible new learning projects. The results of these pitches will be announced shortly. Immediately after the pitches, all stakeholders of Open Diagnostics met. The current learning projects presented their developments within the project, the Open Diagnostics team explained the current state of affairs and together they looked at the coming months. All in all a fruitful day.



LIFE Science Conference Aftermovie 2022
We proudly present the Life Science Conference Aftermovie! The Life Science Conference, organised by the LIFE Cooperative, took place in a packed Forum Groningen. Central were the collaborations within and with the LIFE Cooperative, of diagnostics, drug discovery to the clinic and medical technology. Next to keynote Speaker Ben Feringa, panel sessions and a walking lunch, the first LIFE Science Innovation Award was also awarded to the winner Detact Diagnostics.

The LIFE Science Conference and Innovation Award 2022 are made possible by NV NOM, gemeente Groningen, Bedrijvenvereniging WEST, provincie Groningen, Campus Groningen, Symeres, ICON, Open Diagnostics, Kadans Science Partner, Pharma Connect Capital, CantorClin, Lode Holding and the LIFE Cooperative. 📽 The aftermovie is created by: Ruben Walma
Open Diagnostics is exhibiting at #BIOEurope in Leipzig, Germany!
Brandstof voor diagnostiek
Start-ups in de medische diagnostiek die een zetje in de goede richting willen, kunnen aankloppen bij Open Diagnostics. Behalve een relevant netwerk krijgen ze ook financiële hulp.
Elke Veenman, projectleider bij ODE zegt hierover in de nieuwste editie van NoordZ: ,,Veel innovatie bleef op de plank liggen. Dat willen we nu voorkomen."
Lees hier het hele artikel en interview met Elke Veenman en Ep Oosting!
The Open Diagnostics ecosystem (ODE) proudly presents to you: the Open Diagnostics movie!
Since the start of Open Diagnostics, the ecosystem is growing and three projects have started. In this short movie Detact Diagnostics, Reperio Medtech and SG Papertronics B.V. display how they are developing their diagnostic tools. Find out more about the Open Diagnostics Ecosystem and our projects! 
Ton Vries, director of Open Diagnostics: ''We are proud of the achievements already made within the ecosystem. Together we will turn the Northern Netherlands into a global expert in the development of diagnostics." 
Video by: Ruben Walma
First Open Diagnostics Event highlights novel diagnostics that arrive from Groningen
Diagnostics is more visible than ever, and it is all happening in Groningen and the Northern Netherlands. On May 10th, more than 40 people from the diagnostics ecosystem gathered in the Forum Groningen for the very first Open Diagnostics Ecosystem Event. Not only the strong network of the Northern provinces was present, but also key entrepreneurs and researchers from Leiden and Wijchen joined the event. The innovative and in 2020 launched Open Diagnostics Ecosystem (ODE) looks back at a successful event.  
After an introduction from the director of ODE, Ton Vries, the afternoon started with Mike Martens, who is a member of the Advisory Board and working at Future Diagnostics. Martens related in his presentation to the many key trends that are fueling the global in-vitro diagnostics (IVD) and also that the existing diagnostic tools are minimalizing and making it easier to do rapid tests at the bedside of the patients.  
"Nowadays it becomes easier to test nearby the patients, and I think that in the future it also will be the patient who has control over a lot of diagnostic tools. Look at what is already existing in your phone and smart watch. I think that Apple and Google will be the next diagnostic company", Mike Martens explains.  
Open Diagnostics facilitates the network
The Open Diagnostics Ecosystem is an initiative from the LIFE Cooperative that will turn the Northern Netherlands into a global expert in the development of diagnostics. Open Diagnostics gives access to knowledge, a strong network, and research & development facilities within the diagnostics ecosystem.  
Reperio Medtech is one of the projects within ODE and is developing non-invasive, portable diagnostic tests using eye movements. Their current diagnostic tool for indicating whether someone has Glaucoma will be further developed within ODE for diabetic retinopathy. Alessandro Grillini, Managing Director (Reperio) added: "We are very happy to be part of ODE, because of the network and the access to bigger companies. We believe in the power of networks" 
Next to Reperio, also Linic Ventures joined the stage to talk more about their current developments and innovations. Linic is currently developing a software application to support vascular diagnostics. The software is based on the principles of Machine Learning. 
It happens in Groningen
Next to the previous speakers, Prof. Dr. Matthias Barz from the University of Leiden was invited to give insights into the therapeutic efficiency of targeted nanomedicines, and that their efficiency requires clinically applicable imaging tools. And also, Albert Wolthuis gave insights into new medical laboratory diagnostics. The crowd noticed that some chemistry structures used in the presentations where great, and that it was all created here in Groningen! 
Open Diagnostics is made possible by